Vanguard economic and market outlook for 2022: Striking a better balance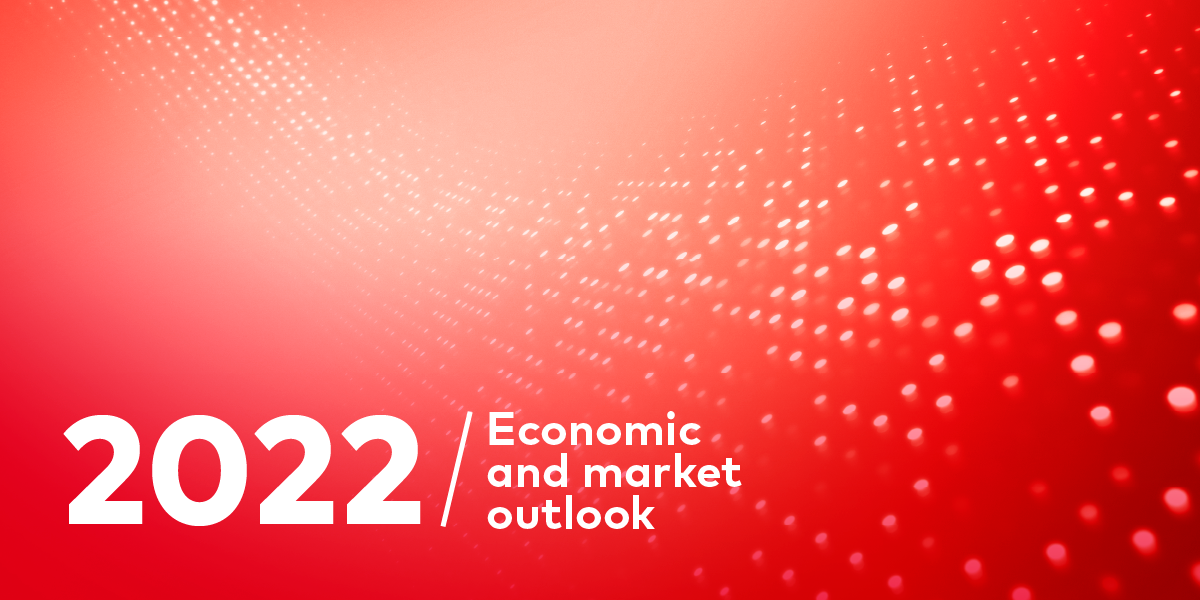 January 2022
As we come to the end of 2021, parts of the economy and markets are out of balance. Labor demand exceeds supply, financial conditions are exceptionally loose even when compared with improved fundamentals, and policy accommodation remains extraordinary.
The gradual removal of policy support and stimulus packages enacted to combat the pandemic-driven downturn will pose a new challenge for policymakers and a source of risk for financial markets.
Our outlook in brief:
Global growth: The global economic recovery is likely to continue in 2022, although we expect the low-hanging fruit of rebounding activity to give way to slower growth whether supply-chain challenges ease or not. Labor markets will continue to tighten, with several major economies including the U.S. quickly approaching full employment. In both the United States and the euro area, we expect growth to slow down to 4%. Our forecasts are for around 5.5% in the U.K. and about 5% in China.
Global inflation: Consumer prices have continued to trend higher across most economies, driven by a combination of higher demand as pandemic restrictions are lifted and lower supply owing to global labor and input shortages. We anticipate that supply/demand frictions will persist well into 2022 across developed and emerging markets, but a return to 1970s-style inflation is not in the cards. Wage- and shelter-based inflation is likely to remain elevated given our employment outlook and will be the critical determinant in central banks' adjustment of policy.
The financial markets: A backdrop of low bond yields, reduced policy support, and stretched valuations in some markets offers a challenging environment despite solid fundamentals. We are projecting the lowest 10-year annualized returns for global equities since the early 2000s, with more attractive returns expected outside the U.S. Even if short-term interest rates rise in developed markets over the coming years, bonds are unlikely to produce negative total returns given our outlook for inflation and secular forces keeping long-term rates low.
Learn more about our views on the global economic outlook, inflation, monetary policy, and the implications for investors.
Notes:
All investing is subject to risk, including the possible loss of the money you invest.
Bond funds are subject to the risk that an issuer will fail to make payments on time, and that bond prices will decline because of rising interest rates or negative perceptions of an issuer's ability to make payments.
Investments in stocks or bonds issued by non-U.S. companies are subject to risks including country/regional risk and currency risk. These risks are especially high in emerging markets.
© 2021 The Vanguard Group, Inc. All rights reserved. Vanguard Marketing Corporation, Distributor.
The information contained in this material may be subject to change without notice and may not represent the views and/or opinions of Vanguard Investments Canada Inc.
Certain statements contained in this material may be considered "forward-looking information" which may be material, involve risks, uncertainties or other assumptions and there is no guarantee that actual results will not differ significantly from those expressed in or implied by these statements. Factors include, but are not limited to, general global financial market conditions, interest and foreign exchange rates, economic and political factors, competition, legal or regulatory changes and catastrophic events. Any predictions, projections, estimates or forecasts should be construed as general investment or market information and no representation is being made that any investor will, or is likely to, achieve returns similar to those mentioned herein.
While the information contained in this material has been compiled from proprietary and non-proprietary sources believed to be reliable, no representation or warranty, express or implied, is made by The Vanguard Group, Inc., its subsidiaries or affiliates, or any other person (collectively, "The Vanguard Group") as to its accuracy, completeness, timeliness or reliability. The Vanguard Group takes no responsibility for any errors and omissions contained herein and accepts no liability whatsoever for any loss arising from any use of, or reliance on, this material.
This material is not a recommendation, offer or solicitation to buy or sell any security, including any security of any investment fund or any other financial instrument. The information contained in this material is not investment advice and is not tailored to the needs or circumstances of any investor, nor does the information constitute business, financial, tax, legal, regulatory, accounting or any other advice.
The information contained in this material may not be specific to the context of the Canadian capital markets and may contain data and analysis specific to non-Canadian markets and products.
The information contained in this material is for informational purposes only and should not be used as the basis of any investment recommendation. Investors should consult a financial, tax and/or other professional advisor for information applicable to their specific situation.
In this material, references to "Vanguard" are provided for convenience only and may refer to, where applicable, only The Vanguard Group, Inc., and/or may include its its subsidiaries or affiliates, including Vanguard Investments Canada Inc.